Ashfield Food and Drink Festival to return to Hucknall High Street for a third year this August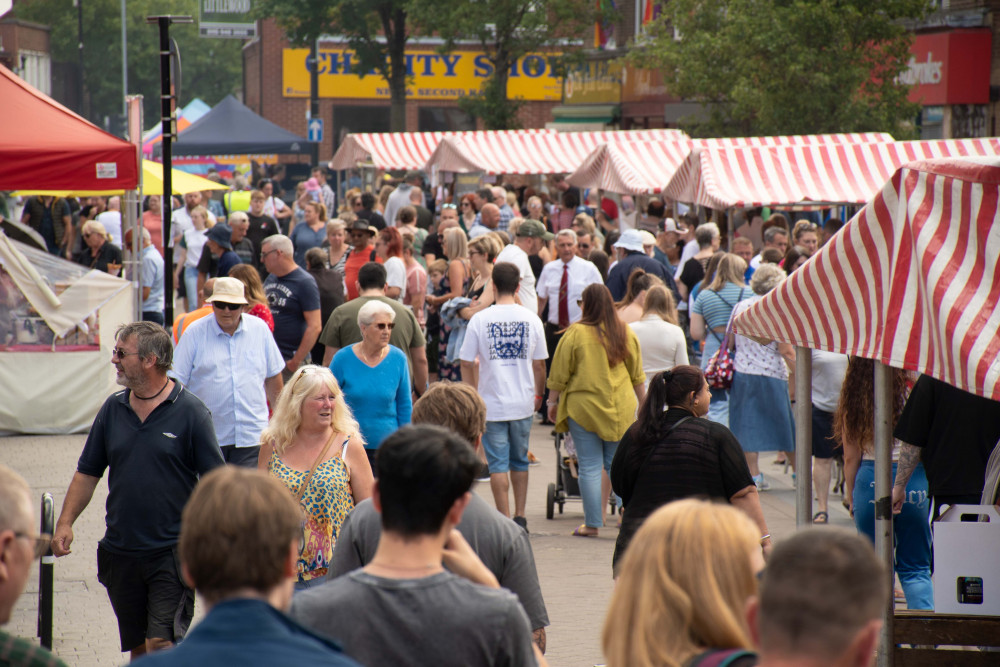 Ashfield Food and Drink Festival will return to Hucknall High Street on Sunday 20 August for the third year. Photo courtesy of Ashfield District Council.
Ashfield Food and Drink Festival will return to Hucknall High Street on Sunday 20 August for the third year.
The festival celebrates the best food and drink producers in the East Midlands and beyond. Now Ashfield District Council is looking for new traders and caterers who would like to sell their products to over 4000 expected visitors.
At the past three festivals, visitors have been treated to a huge variety of street food from around the world, independent beers and ciders, fresh flavoured cheeses, as well as gourmet cakes, brownies, and cookies.
This August festival-goers will also be able to watch, interact, and try vegetarian food cooked live by a healthy eating chef.
Joining the lineup of past festival favourites this year are:
· Castle-dining – offering gluten-free cakes such as brownies; blondies; rocky road; cakes like red velvet, carrot cake, etc; tarts; Swiss rolls; bronuts (brownie doughnuts); and cheesecakes
· Feinkost - selling grilled garlic mushrooms, red peppers with feta cheese, pumpkin with cheese, olives, sea food, and pumpkin butter beans
· Kimberley Craft Ales – bottled and canned independent beers and ales
· The Sinfully Sweet Pastry Company – with Swiss Meringue buttercream cake pots, patisserie style tarts, frangipanes, macarons, and oat bars
· The Sizzling Kitchen (Die Brutzelnde Kuche) - Authentic German cuisine including Bratwurst and vegan brockwurst, pomme frites, sauerkraut, and cold drinks.
Councillor John Wilmott, Ward Councillor for Hucknall North, said "Ashfield Food and Drink Festival has grown to be one of our residents' firm favourite events. We are extremely glad to bring this event back to Hucknall for the third year as part of our Splendid Summer of events!
"One again we have a fantastic line-up of local and regional food and drink producers, and we are still accepting applications for new traders so please get in touch if you are interested."
Interested caterers and traders can email [email protected] for an application form.