Enforcement and clamping to be rolled out at all NET tram park and ride sites in Nottinghamshire
By Joe Locker, Local Democracy Reporter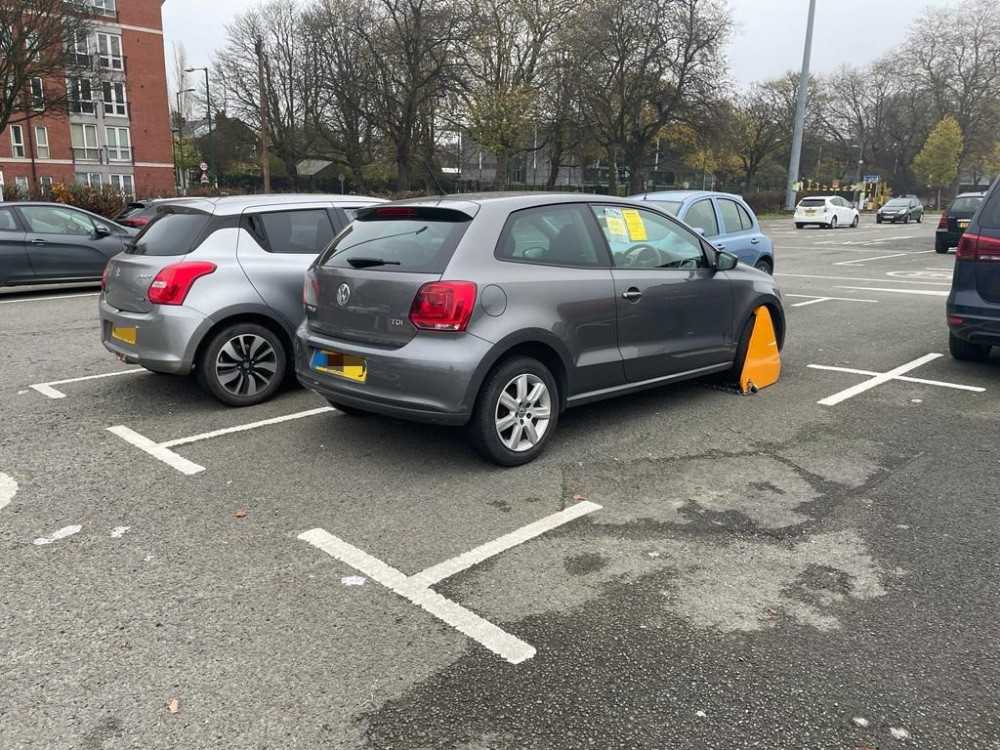 A clamped car at the Forest Park and Ride in Nottingham. Photo courtesy of LDRS.
Enforcement to stop motorists incorrectly using a park and ride in Nottingham will be rolled out across all sites, including Hucknall, after tram bosses said the new measures had been a success.
NET, the tram network operator, said some motorists had been using The Forest Park and Ride for overnight parking, while others had been parking in disabled bays without blue badges.
Other motorists had been parking on walkways instead of inside parking bays.
There are 972 parking spaces at the site and, according to Trevor Stocker, the head of operations for Nottingham Trams Ltd, the incorrect use had proven unsafe.
Park and ride sites are only for use for tram ticket holders, the operator adds.
A 24-hour parking enforcement plan was therefore introduced, and persistent offenders were punished by having their wheels clamped or vehicles towed.
In an NET performance update document, which will be discussed during a Nottingham City Council light transport meeting on July 11, Mr Stocker says the measures have been a success with the need for enforcement action dropping since January.
In January this year action was taken 238 times, with 52 vehicles clamped.
As of May action was only taken 146 times, with 36 vehicles clamped.
"Parking enforcement patrols at The Forest Park and Ride have continued, with the number of parking violations generally reducing over the year so far," Mr Stocker said.
"Figures over the last few months demonstrate a consistent approach to people using the car park facilities.
"With over a 1000 cars using this site every day, the number of vehicles being clamped has reduced from last year, making facilities available to tram customers.
"Vehicles being clamped is affecting less than 0.1 per cent of people using the facility.
"The parking enforcement team continues to add to the wider security and customer support on the network.
"In May, staff were able to assist a member of the public who started to have a fit get medical attention and a stolen vehicle that crashed into other cars was immediately reported to the police, enabling them to respond swiftly to the
incident."
According to the network operator the enforcement plan will soon be rolled out across all park and ride sites in Nottinghamshire.
"The next step in this process is to roll out parking enforcement in a structured way across all NET park and ride sites, with the aim of ensuring facilities are safely available for NET Tram users and other transport connections as agreed," Mr Stocker added.
"Customer communications will roll-out in due course, alerting people to these changes."
Furthermore, new signage and traffic calming measures have been installed at both exits from the Asda supermarket onto Radford Road which is located near The Forest Recreation Ground and Forest Park and Ride site.
The action came after reports of several minor road traffic incidents.
Since installation, NET says no further road traffic incidents have been reported.