Former Hucknall police officer named as preferred candidate to become next Chief Constable of Nottinghamshire force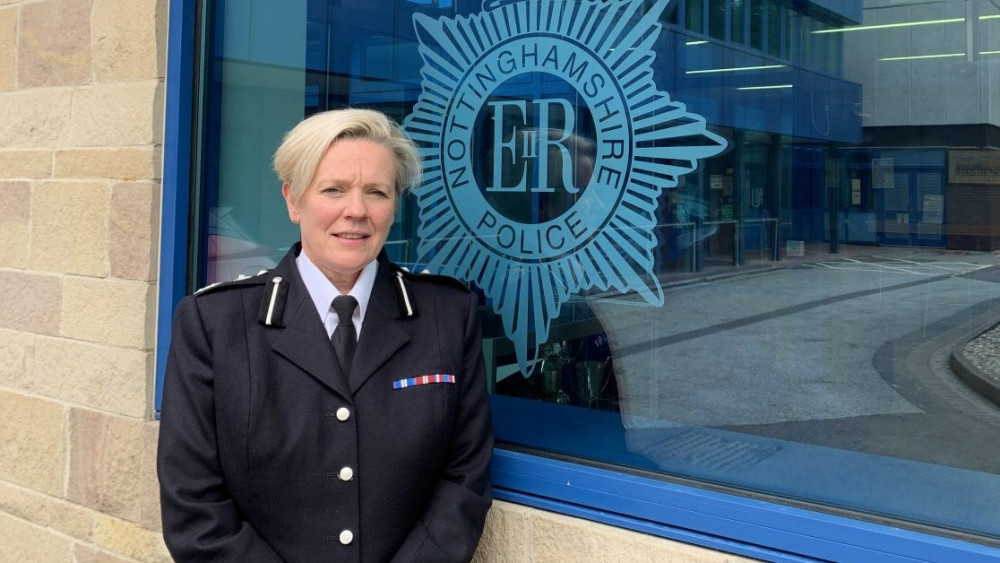 Kate Meynell (pictured) is set to become the next Chief Constable of Nottinghamshire Police. Photo courtesy of Nottinghamshire Police.
Nottinghamshire's Police and Crime Commissioner has named her preferred candidate to be the next Chief Constable of Nottinghamshire Police.
Caroline Henry has selected Kate Meynell, subject to a confirmation hearing with the Police and Crime Panel. She is set to replace current Chief Constable Craig Guildford who has been appointed to the equivalent top job at West Midlands Police.
Kate is currently the Deputy Chief Constable of Derbyshire Constabulary, having previously spent most of her career serving with Nottinghamshire Police, including a two-and-a-half-year spell as Assistant Chief Constable when she led the force's knife crime strategy and chaired the regional strategic response to the Covid pandemic.
Since then, she has implemented Derbyshire Constabulary's vulnerability improvement programme, driving change in how the force safeguards vulnerable people, and led an operation to improve engagement within the workforce.
Today's announcement follows a rigorous selection process by the PCC, which included psychometric testing, internal and external stakeholder panel meetings and a final panel interview chaired by the PCC.
The preferred candidate to be the next Chief Constable, Kate Meynell, will now go before the Nottinghamshire Police and Crime Panel for confirmation on 21 September. If the panel confirms the preferred candidate, the PCC will then be able to appoint the next Chief Constable.
Commissioner Henry said: "I am absolutely delighted to announce Kate Meynell as my preferred candidate to be the next Chief Constable of Nottinghamshire Police.
"We had two outstanding shortlisted candidates but after a rigorous selection process I am confident that Kate has what it takes to lead this force forward.
"Kate will be responsible for working with me to deliver my 'Make Notts Safe' Police and Crime Plan, which has a clear focus on preventing crime, responding efficiently and effectively to local need and supporting vulnerable victims.
"Working as a team with partner agencies and the community is central to achieving this, and Kate has shown throughout her career that she recognises the importance of this.
"Kate is an outstanding leader and I am looking forward to working closely with her.
"Craig Guildford has been an excellent Chief Constable over the last five years at Nottinghamshire Police, during which crime has fallen, officer numbers have reached their highest in over a decade and neighbourhood policing has expanded. Craig will continue to lead the force until the end of the year before moving to take up the Chief Constable position at West Midlands Police, where we wish him well."
Kate joined Nottinghamshire Police in 1993, where she was posted to Bulwell. For the first few years she worked across Bulwell, Hucknall and Eastwood in uniform roles before joining CID, undertaking investigation roles in Child Abuse Investigation Unit, Divisional CID and Homicide Team.
Progressing through the ranks in both uniformed and detective roles, in 2011 she was part of the East Midlands Special Operations Unit (EMSOU): Major Crime Unit before becoming head of the unit in 2015, overseeing major crime investigations across the East Midlands.
Kate has performed the role of SIO (Senior Investigating Officer) on a number of homicide investigations, including the investigation into a fatal house fire, where the six Philpott children were killed, resulting in the conviction of both their parents and a family friend of their manslaughter.
In 2017, Kate transferred to Northamptonshire Police to the role of Chief Superintendent, Head of Crime. While there she was responsible for CID, Public Protection, Intelligence and Serious and Organised Crime.
In 2018 she returned to Nottinghamshire Police as Assistant Chief Constable, leading the force's knife crime strategy, before leaving to become Deputy Chief Constable at Derbyshire Constabulary in January 2021.
Kate Meynell said: "I'm extremely proud to be named as the preferred candidate to be the next Chief Constable of Nottinghamshire Police.
"It is my home county; one I love and one in which I am proud to have served for most of my career.
"I will bring passion and authenticity to the role, working with the PCC to deliver the best service I can to the people of Nottinghamshire, delivering an outstanding police service we can all be proud of.
"I have really enjoyed working for Derbyshire Constabulary, where I have worked alongside some excellent officers and staff, but I am excited about this new challenge and truly honoured to be put forward for the role of leading my home force."