Local Primary school gives donations to Hucknall Food Bank as part of Harvest Festival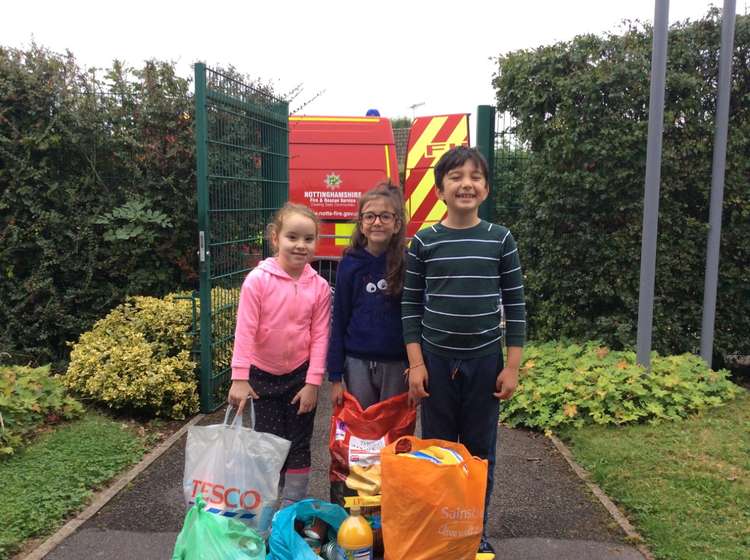 Students at Holy Cross with some of the food ready to be collected by Hucknall firefighters. Photo courtesy of Holy Cross Primary Catholic Voluntary Academy.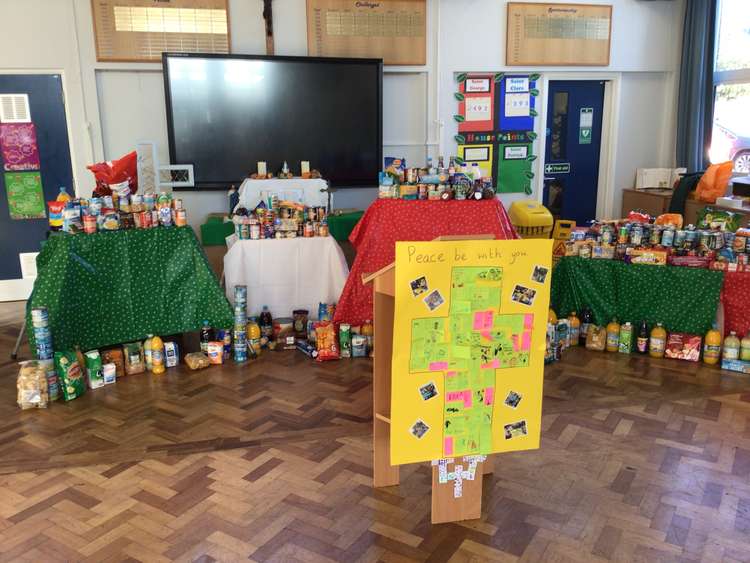 The food that had been collected was laid out for the school's Harvest Liturgy before being donated to Hucknall Food Bank. Photo courtesy of Holy Cross Primary Catholic Voluntary Academy.
A Hucknall primary school has made a generous donation to the local food bank as part of their harvest festival celebrations.
Holy Cross Primary Catholic Voluntary Academy on Leen Mills Lane collected the donations together for the last day of term on Friday (15 October) ahead of their Harvest Liturgy which was led by their Year 5 students.
Headteacher Tammie McNamara said: "We were extremely grateful for the generosity shown by our school families recently at our Harvest festival. Families donated a variety of tinned meat and fish, pies, tinned fruit, juice, custard, desserts, cereals and many more items. The items were donated to the food bank at Under One Roof in Hucknall.
"We are aware that following the pandemic, more of our families in Hucknall are relying on additional support, such as access to the food bank, so we were pleased to be able to give something back to those in need in our community.
"As a school, taking social action in the community is very important to us and we believe our young people should be educated about how they can make a difference to those around them in their community.
"Our Year 5 children led our Harvest Liturgy this year and they incorporated their learning within the curriculum into their Liturgy. The children have been reading texts in class by the author Onjali Rauf, including The Night Bus Hero, and The Great Foodbank Heist. The children have then made links and been inspired by the food bank community work of Marcus Rashford after reading the chapter in his book You are a Champion."
The donations were collected by Hucknall firefighters yesterday (Monday 18 October) who regularly help the foodbank with collections and deliveries.
Yvonne Campbell, manager of the Hucknall Food Bank said: "On behalf of the foodbank we'd like to thank Holy Cross School for their generous donations to supply food for those that are less fortunate in Hucknall.
Ms Campbell also talked about how important it is for young people to be involved with, and made aware of, organisations such as the foodbank. She said: "It makes them realise perhaps how lucky they are with the food and to be giving to other people is always a good thing."
Anyone wanting to donate to the food bank should email [email protected] for more information.